Coach Mark Sangiao's recent award during the Gintong Parangal proves his achievements in the world of MMA reaches far beyond the confines of the cage.
Sangiao, during the weekend was one of the awardees recognized as 'Philippines Most Outstanding, Multi – Awarded Head Coach and a Man of Compassion, Inspiring, Dedicated in Leadership Award.
The MMA coach, together with former Gilas and PBA star Mark Pingris, were the only two sports personalities during the ceremony held at Okada Manila.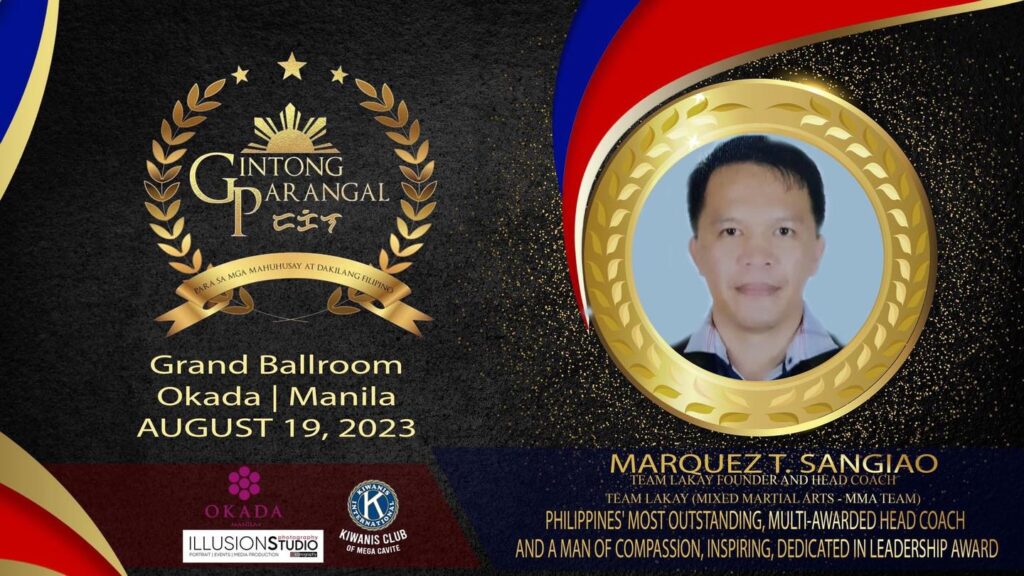 "I have received several international and local awards and this one so far is one of the best because of its scope which includes awardees from the academic, public service and entertainment," said Sangiao.
Now on its second year, the Gintong Parangal is an awards ceremony that celebrates the achievements and contributions of Filipino personalities that have profound impact on Filipino society.
The awards recognize outstanding individuals who have made significant contributions to the different sectors of the society. Sangiao's recognition at the Gintong Parangal 2023 comes as no surprise to those familiar with his illustrious career. For over two decades, Sangiao has been a pillar in the world of martial arts, particularly in the field of mixed martial arts (MMA). Sangiao's journey began as an aspiring martial artist himself, but it was in coaching that he truly found his calling. He established Team Lakay, which has become a breeding ground for some of the country's most exceptional MMA talents. Under his guidance, Team Lakay fighters have clinched numerous titles and championships, making their mark on the global MMA scene.
Sangiao's impact stretches far beyond the gym, as he has played a pivotal role in the growth of MMA in the Philippines. His emphasis on discipline, hard work, and respect has not only produced champions but has also instilled valuable life lessons in his athletes.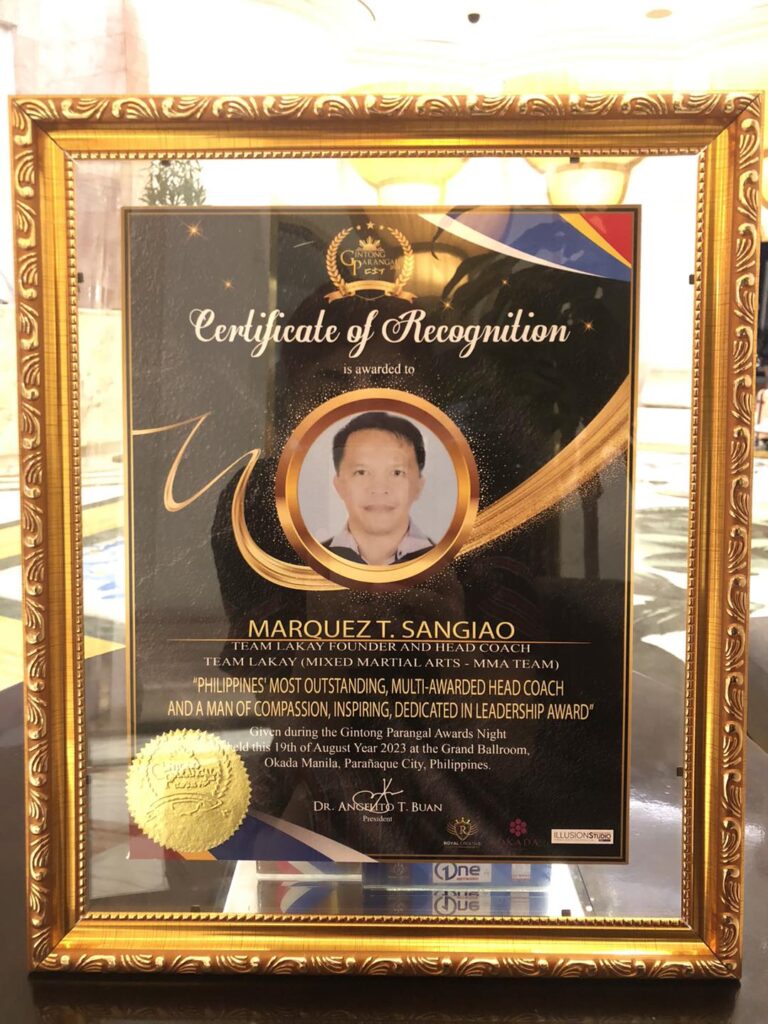 His commitment to nurturing young talent and guiding them to the pinnacle of their sport has earned him respect and admiration from peers and fans alike.
Receiving the Gintong Parangal 2023 Award is not just a personal achievement for Sangiao which is a testament to his enduring commitment to Philippine sports.
Sangiao has been highlighting the importance of discipline, teamwork, and the never-ending pursuit of excellence in the world of martial arts.
Sangiao's humility and dedication were evident as he dedicated the award to all Filipino athletes, emphasizing that hard work and determination can lead to success in any field.
-PR