In its bid to discover talents in the different martial arts and hone the skills of athletes, Benguet is set to stage the second Benguet Martial Arts Festival this month.
Grappling, Taekwondo, and Arnis will top bill this month's festival with at least 300 participants expected to join the different competition set on three different playing dates.
Benguet sports coordinator Dean Mark Monang said the festival is a grassroots sports program of the province and an avenue where athletes can showcase their talents.
"It is one way how we can hone the talents of our athletes since Benguet and the Cordillera is known for its martial artists and this is also one way of helping them improve and develop their skills," added Monang.
Headlined by Team Lakay's grappling competition which takes place September 24, the competition focuses on clinching and ground fighting.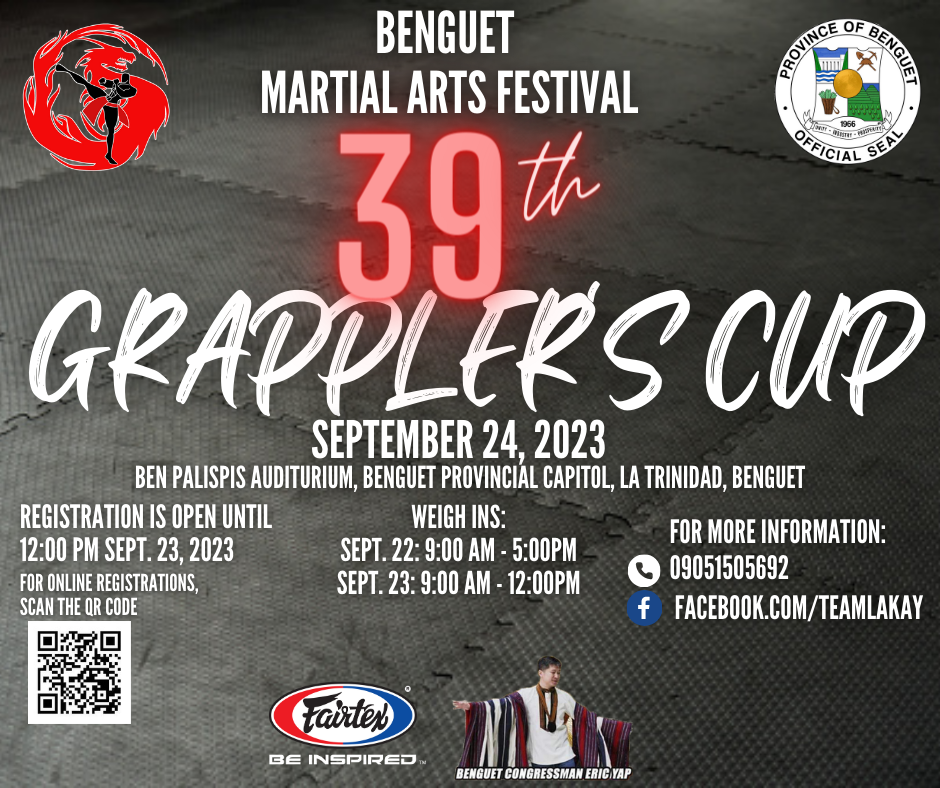 Now on its 39th staging since its first in 2008, the grappling competition, according to Coach Mark Sangiao, has helped in producing several world champions in different international mixed martial arts organizations such as ONE Championship with five, and one each in Brave Combat Federation and Pacific X-Treme Combat.
The grappling tilt also aims to develop MMA fighters in their submission skills through the use of submission holds which brings together techniques from folk wrestling, judo, Greco-Roman wrestling, Brazilian jiu-jitsu, jujutsu (of the traditional form), and sambo.
Submission forms can be used as an element of a larger sport setting common in MMA. The event also aims to develop the skills of local MMA enthusiasts and prepare them for higher levels of combative sports.
Interested participants may contact coach Sangiao thru (0966)174-0017.
Prior to the grappling competition, arnis will open the martial arts fest set on Sept. 23 and interested participants may contact coach Maryann Mapangdol at (0963)792-0254 while the taekwondo jins wanting to join the competition slated on Sept. 30, may reach coach Danrey Velo at (0998)-953-7537.
-TL PR